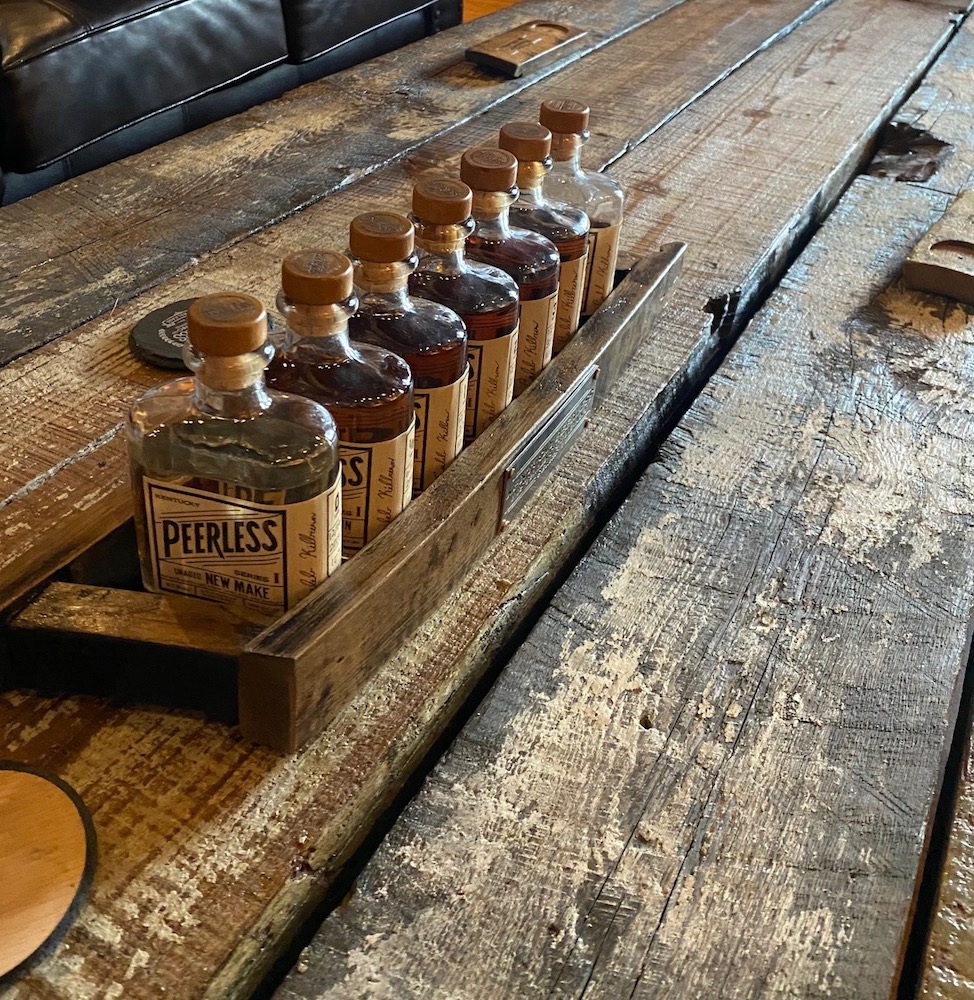 Bourbon and horses are the main drawing forces when it comes to Kentucky tourism, but we have polled the locals to give you lots of insider tips and recommendations on this barely-in-the-South city.
Check out our full episode on Louisville here:
https://steelmagnoliaspodcast.com/episode/visit-louisville-weekend-edition
Come along as we explore #LouisvilleLove
WHERE TO STAY
I love a classic hotel in a great location. So, for that…check out the Brown Hotel or the Seelbach Hotel. Both lovely and have lots of history. Both in walkable locations to many sites.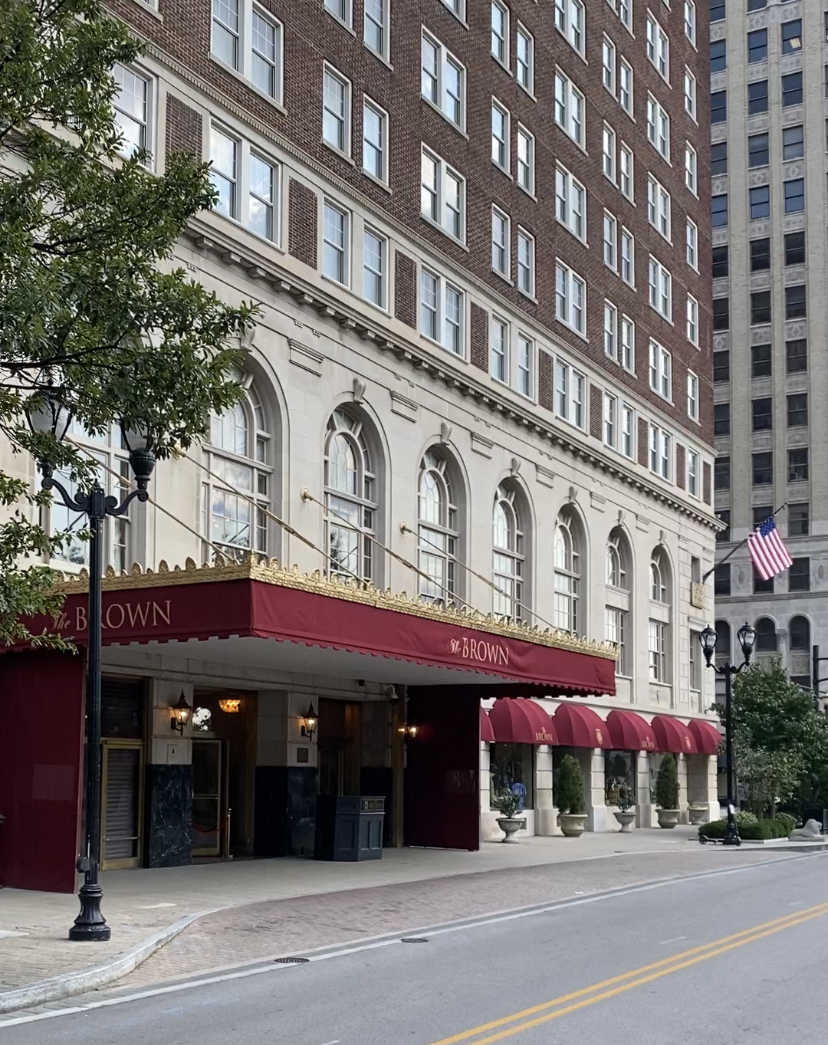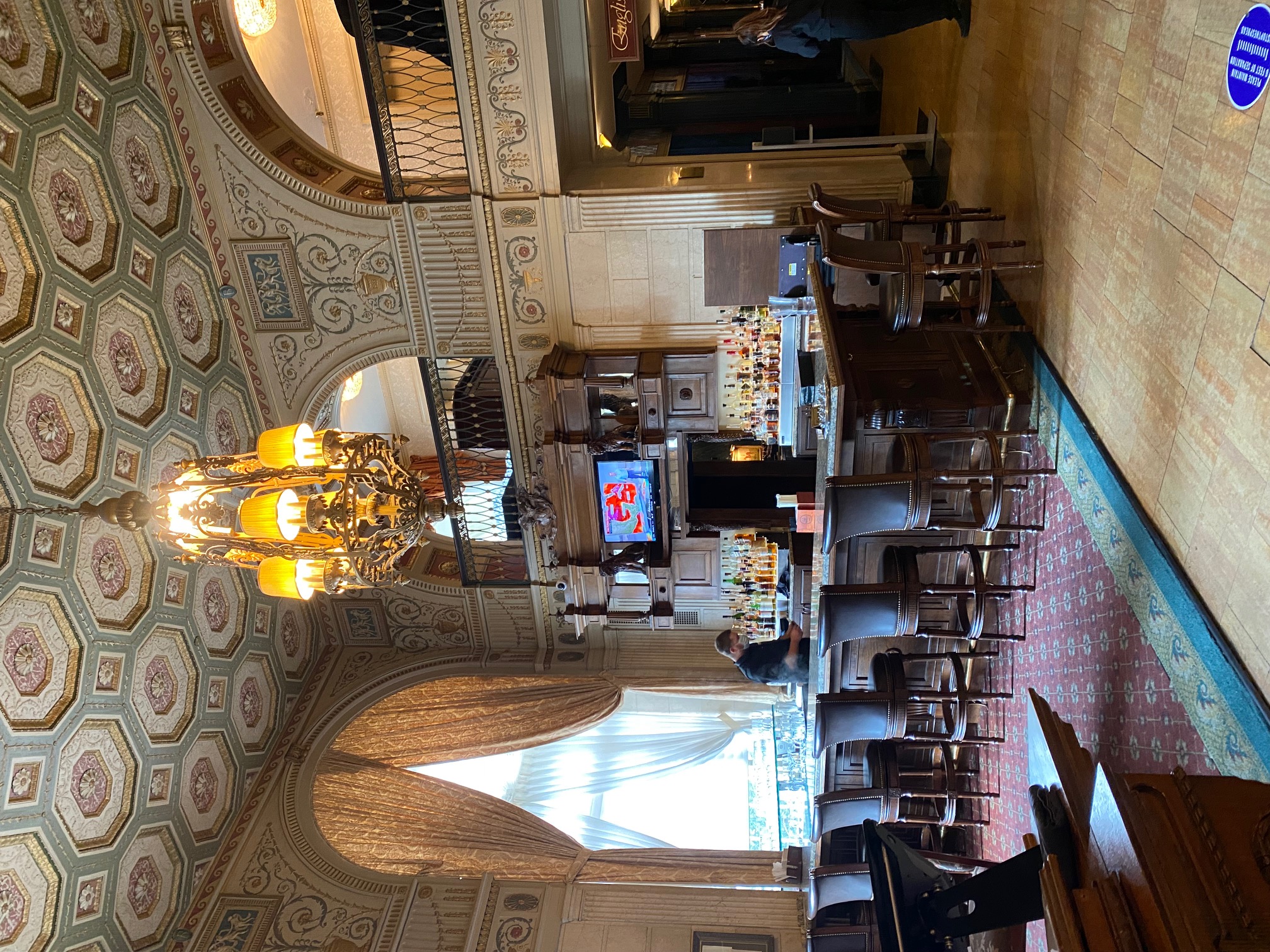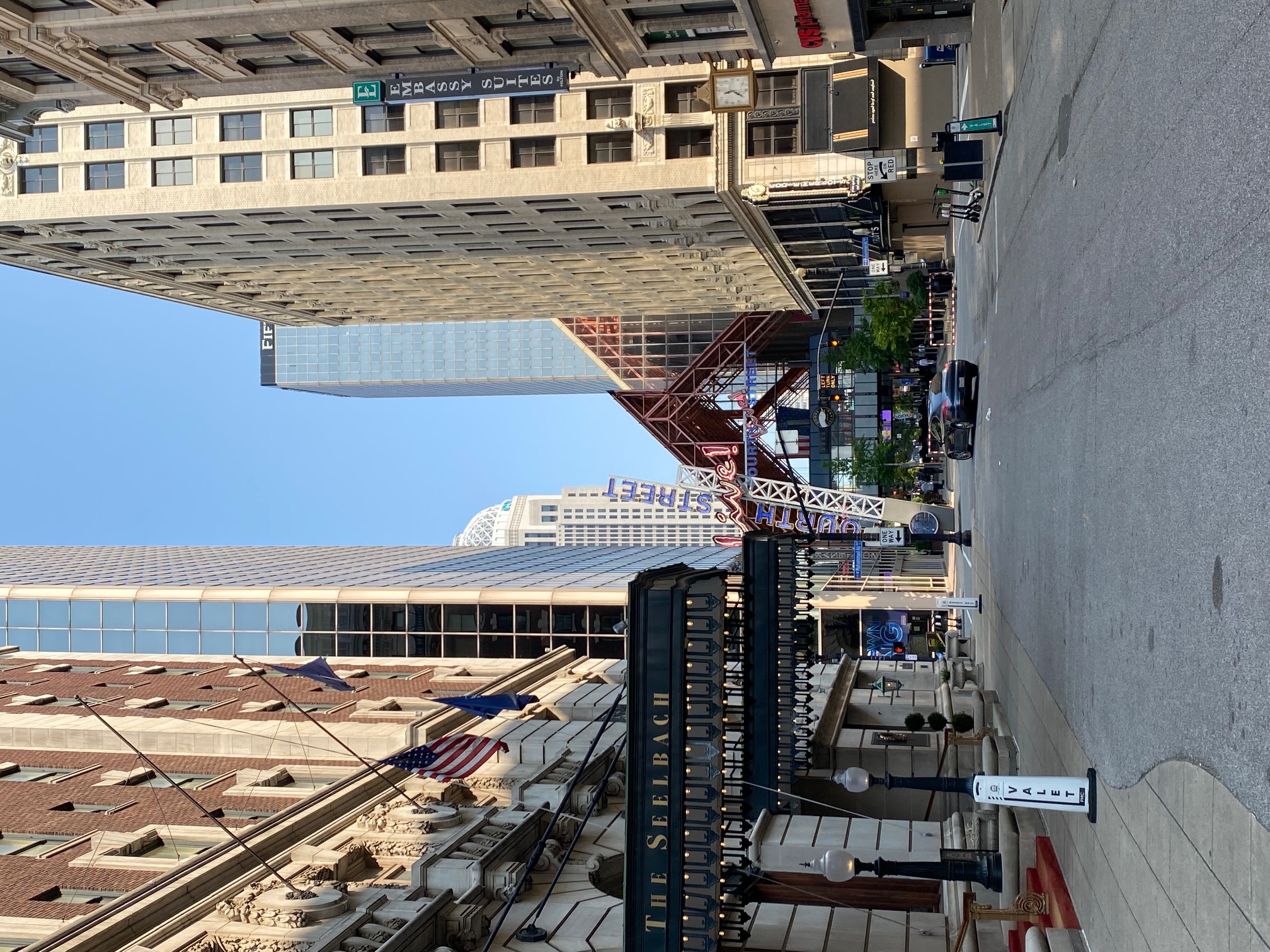 The Omni on 2nd Ave has all the luxury amenities like a spa, rooftop pool, library bar and Pin and Proof Speakeasy
Hotel Distil (Marriot property) home of the Repeal Oak-Fired Steakhouse
Galt House Hotel (Wyndham property) is also a great location, little less expensive than the prior mentions and also has some wonderful food and drink including the Jockey Silks Bourbon Bar which includes some rare bourbon pours as well as cocktails etc.
Let's start with the obvious…
HORSES
Churchill Downs is one of the finest horse racing sites out there. Home to the KY Derby since 1875. It is always on the first Saturday of May, but is a whole week or more of activities around it. Including Thunder Over Louisville
There is a lot of choices for live racing at Churchill Downs (check their website to plan this in your trip. But in the months to come when this airs, you can go through Oct 3rd or in late Oct/Thanksgiving weekend or next year it will start back from April to July and again further in the year.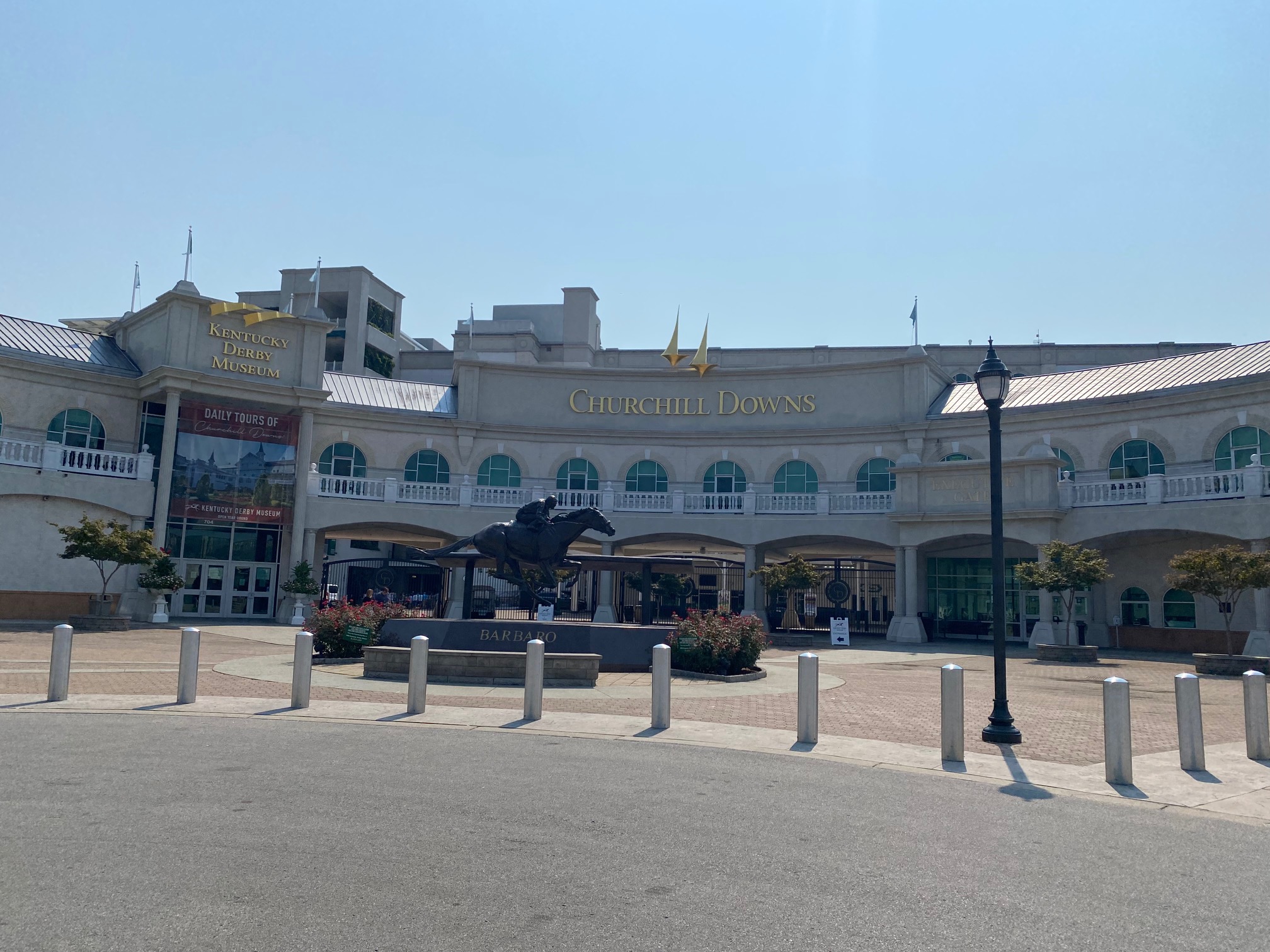 Churchill Downs is even worth a visit if you aren't watching live racing. There is a KY Derby Museum on property that is excellent! Includes a 360 degree simulation of being at the derby. On the KY Derby Museum site there are various tours available and I highly recommend the Barn and Backside Tour. You may even get to see some horses getting their morning workouts. Our tour guide, Barry Northern, had lived within 2 mile of Churchill Downs his entire life and was excellent! CD is a great photo op with the iconic Twin Spires behind you.
If you do go to CD early, a great breakfast spot after your tour would be Wagner's Pharmacy (a Louisville tradition since 1922)
https://thunderoverlouisville.org
BOURBON
Next up, the Bourbon, there is a whole trail for this kind of travel ya know! Kybourbontrail.com
Check out the Urban Bourbon Trail if you are staying downtown and not planning to visit other areas of town.
Since we are focusing on a weekend, this is only staying in the city limits. If you are coming for the Bourbon Trail, you can get a little taste, but you will need longer than a weekend to do the full route as many are spread out toward Lexington and beyond. In fact, plan 5 days minimum to do the full trail.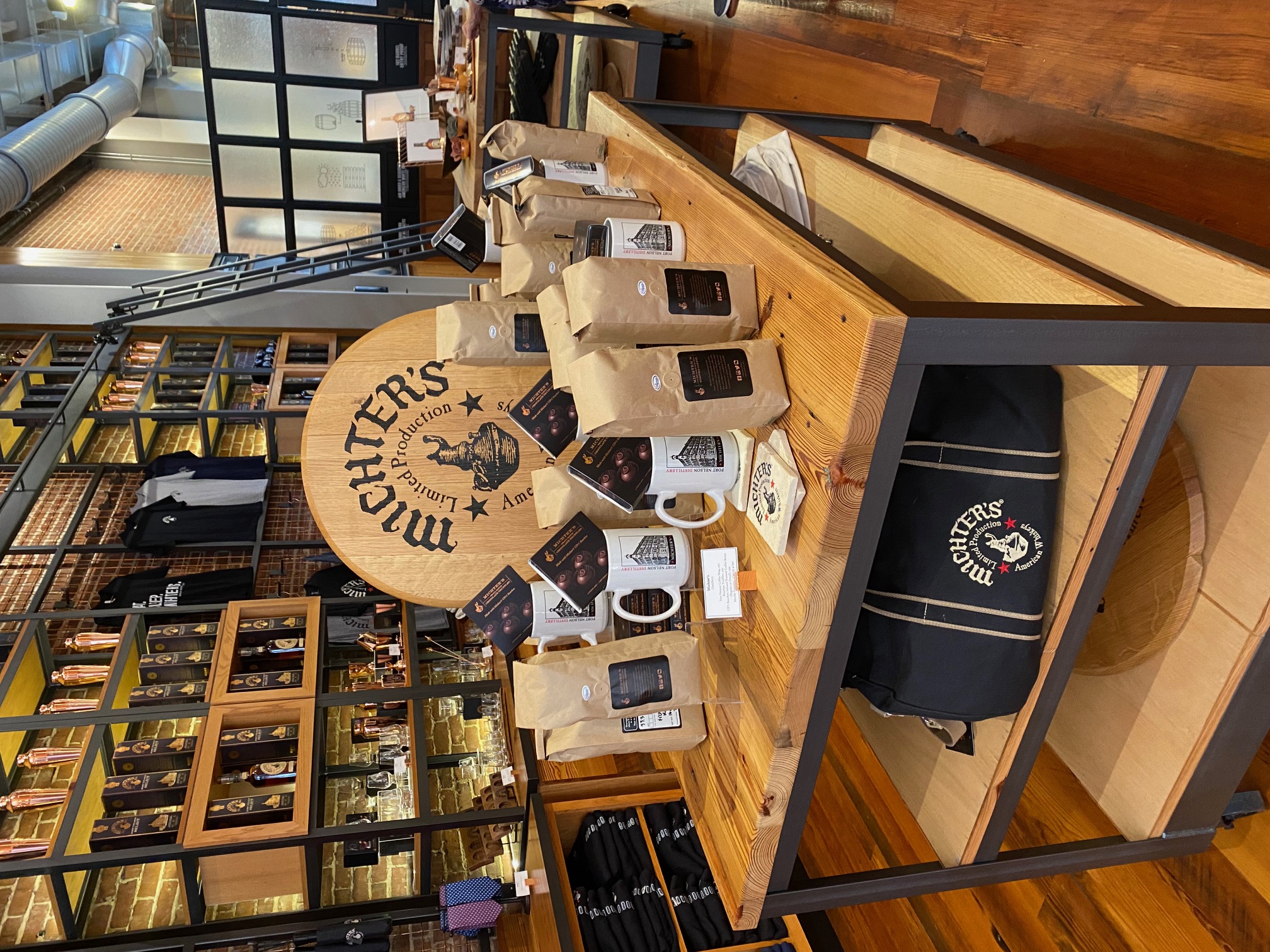 Right in Louisville, you can visit Old Forester, Angel's Envy, Michter's Fort Nelson, Evan Williams Experience, Rabbit Hole and Kentucky Peerless. Many of these are walkable from hotels. Stitzel Weller is in Louisville as well, but was not as close in town. There is also a Copper and Kings brandy distiller in Louisville as well. If you are interested in doing tours, I would recommend a reservation. You can chance to just pop in and do a tasting, but hours vary on these places so check that out first.
Want someone else to do all the driving? Enter the brilliance of Mint Julep Tours: mintjuleptours.com
I just made a visit to Kentucky Peerless and I highly recommend this place of the Louisville spots I have been to. It is a craft distillery, so smaller numbers of barrels produced. But, the history is so cool and the bourbon is SO good. Shout out to Nikki Armento who showed me around and really did this place justice. She also gave me some great tips on food and cocktails in Louisville, so she has earned my trust!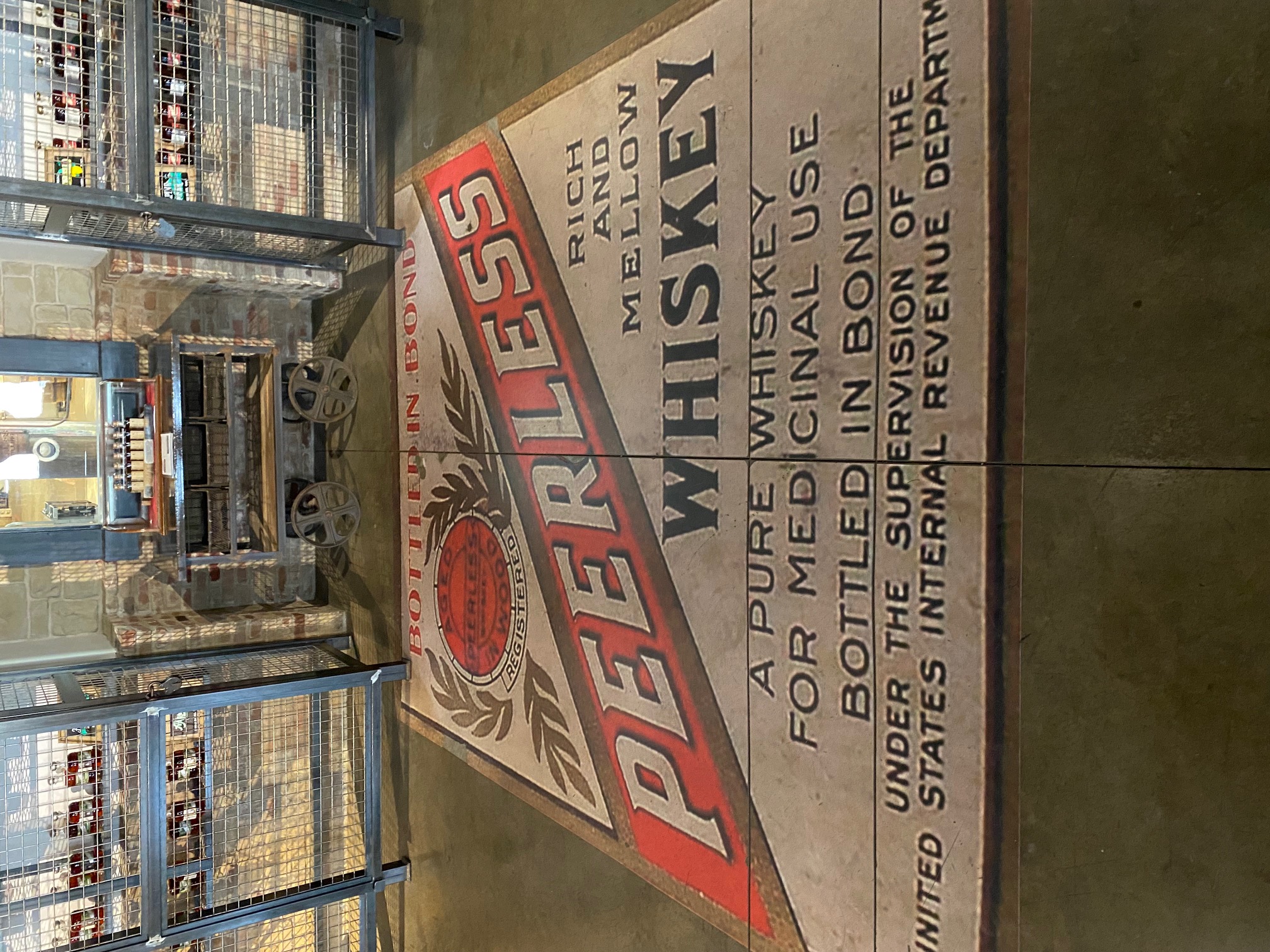 On that note, I want to mention a really cool experience that I had at Nikki's recommendation. There is an authentic speakeasy cocktail lounge called Hell or High Water in downtown Louisville that is epic. I made a little video that we can share on socials to show the place, But, think back to 20s music and very chic vibe. The cocktails are very unique and delicious. My friend Mark Stivers also said that they have a crazy good bourbon selection and he is a Louisville native that knows his bourbon.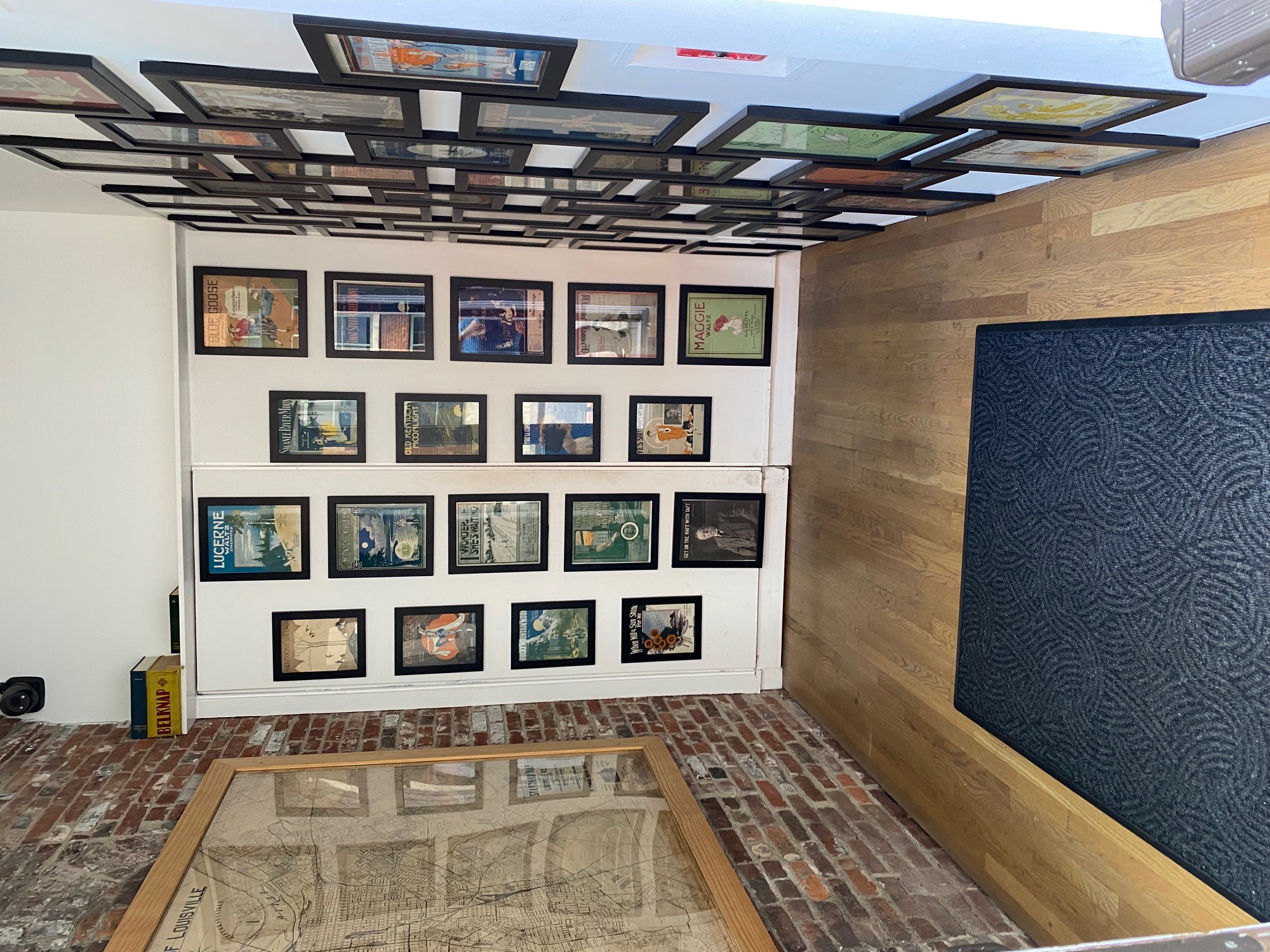 https://www.hellorhighwaterbar.com
Really happy with how much was walkable in the downtown area.
OTHER ATTRACTIONS
Louisville Slugger Museum is a great stop for your trip as well. You don't have to be a baseball fanatic to enjoy this museum. You will see how the bats are made as well as hold some of the famous players bats and see some great baseball memorabilia; also houses the Against the Grain Brewery and Smokehouse, which I have heard is yummy.
This is also a great photo op with a 120 foot bat outside of the museum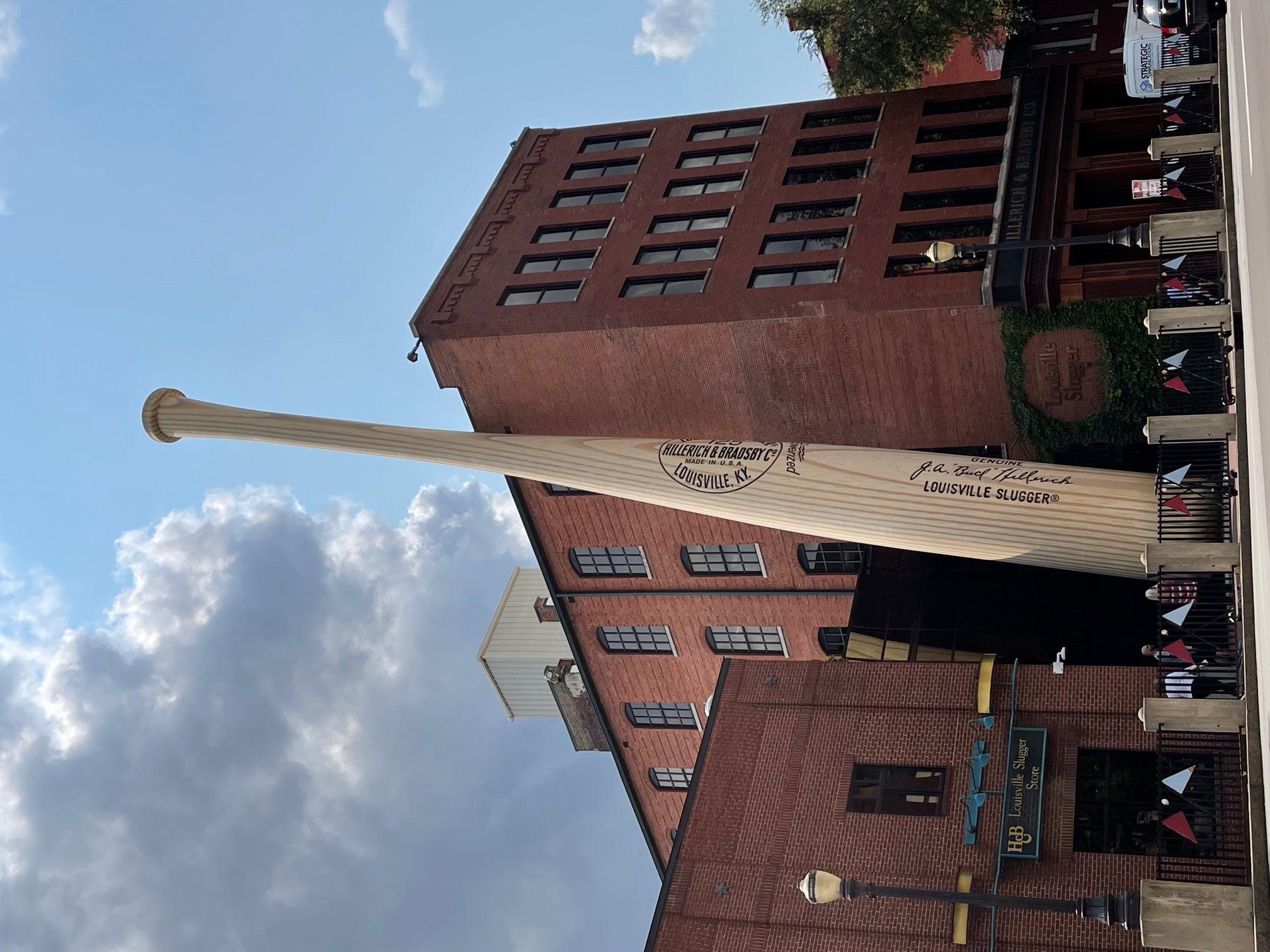 One of the most famous Louisville residents was Muhammad Ali. There is a museum in his honor, but I have not been personally. I know that a lot of guys really like this museum as he was just such a sports icon. I did go by the museum, but it was about to close. https://alicenter.org
Frazier Museum is a great stop for KY History and has exhibits for various interests and age groups. Check out their website at fraziermuseum.org
Louisville Palace is a cool venue for music
Opened in 1928- still has that old school beauty and size
https://www.louisvillepalace.com
Outdoor Music Venue: Iroquois Amphitheater
May 22, 2022 Nitty Gritty Dirt Band with Rob Ickes and Trey Hensley!
https://iroquoisamphitheater.com
SPORTS
Univ of Louisville Cardinals
For college football go to the Cardinal Stadium or if it is basketball…
Basketball is huge in KY, the men and women of U Of L play at the Yum Center right down town
With 22,090 seats for basketball, it is the largest arena in the United States by seating capacity designed primarily for basketball
Current Louisville area professional teams
Club Sport Began Play League Venue
Louisville Bats Baseball 1982 International League Louisville Slugger Field
Derby City Dynamite Women's football 2013 Women's Football Alliance John Hardin High School (Radcliff)[3]
Louisville City FC Soccer 2015 USL Championship Lynn Family Stadium
Metro Louisville FC Soccer 2020 National Premier Soccer League King Louie's Sports Complex
Racing Louisville FC Soccer 2021 National Women's Soccer League Lynn Family Stadium
OUTDOORS
Waterfront Park: 85 acres right next to the Ohio River
Big Four Bridge is a huge Pedestrian Bridge over the Ohio River that makes for a great skyline photo. You can walk the bridge over in to Jeffersonville, Indiana and many people like to get an ice cream there.
Great place to watch a sunset.
4000 acres with something for everybody, hiking/canoeing/walking trails
Louisville has a great public parks system…THE PARKLANDS OF FLOYDS FORK (East Louisville area) is the newest and most amazing. Five-times larger than Central Park in NYC, it consists of 5 parks all linked together with miles and miles of hiking and bike trails, and options to paddle on Floyd's Fork Creek for miles. https://theparklands.org
CHEROKEE PARK is much older and more metro…it's fun to just drive through that area and look at all the old, massive houses that line the park property. https://louisvilleky.gov/government/parks/park-list/cherokee-park
Louisville Zoo (not too big, but not too small either) https://louisvillezoo.org
Bernheim Arboretum and Research Forest has a really cool thing for kids that are giant wood trolls https://bernheim.org
https://www.cavehillcemetery.comCave Hill Cemetery makes most people's list of favorite spots as well. This is the burial spot for Muhammad Ali, Colonel Sanders as well as many others. They have maps or tours available if that sounds cool to you.
https://www.cavehillcemetery.com
Gotolouisville.com (This will also tell you of any local festivals that may be going on during your visit too
WHERE TO EAT
Louisville is quite the culinary destination and there are too many great places to just name a few, so below is a list of great spots by neighborhood.
Mussel Burger Bar https://www.mussel-burger-bar.com
Repeal Steakhouse https://repeallouisville.com
Brendan's Catch 23 (seafood) https://www.bcatch23.com
Eight Up (Rooftop Bar and Restaurant) https://www.8uplouisville.com
Merle's Whiskey Kitchen (Southern food) https://merleswhiskeykitchen.com
Doc Crow's https://www.doccrows.com/home
Jeff Ruby's (steakhouse) https://www.jeffruby.com/louisville
Whiskey Dry (Edward Lee restaurant) https://whiskeydryrestaurant.com
610 Magnolia (Edward Lee restaurant) https://610magnolia.com
BARDSTOWN ROAD (THE HIGHLANDS)
Jazz and nice American/Southern food at Jack Fry's (will need reservation and not with kids) https://www.jackfrys.com
Havana Rumba (Cuban food) https://www.havanarumbaonline.com
Tacos and cocktails https://www.el-taco-luchador.com
Creative pub food and beer http://louisvillehammerheads.com
Diorio's Pizza https://diorios.pizza
Wick's Pizza https://www.wickspizza.com
Homemade Ice Cream and Pie Kitchen https://piekitchen.com
Porcini (Italian food) https://www.porcini502.com
Silver Dollar https://www.whiskeybythedrink.com
Village Anchor (Hot Brown and other Southern foods) https://www.villageanchor.com
Nulu (New Louisville) https://www.nulu.org/
Feast for BBQ http://www.feastbbq.com
La Bodeguita (Cuban) https://www.labodeguitademima.com
Garage Bar. https://www.garageonmarket.com
Evergreen Liquors tasting bar (sample some rare bourbons for good prices)
West Sixth Brewing Courtyard for a cold beer https://www.westsixth.com/nulu
Please and Thank You- for cookie https://pleaseandthankyoulouisville.com
BUTCHERTOWN
Hi Five Doughnuts https://www.hifivedoughnuts.com
https://workthemetal.com (very cool shopping)
Frankfort Ave. Liquors and Wines (for bourbon tastings)
Hadley Pottery Hadley Pottery is an American-based pottery and stoneware company started by Mary Alice Hadley in 1939 and is located in the Butchertown section of Louisville,
PHOENIX HILL
Agave and Rye (super cool taco joint) https://agaveandrye.com
HARROD'S CREEK (for beautiful atmosphere and sunset watching)
Captain's Quarters on River Rd. https://www.cqriverside.com
River House https://www.riverhouselouisville.com
MICROBREWERIES
Mile Wide https://www.milewidebeer.com/home#ontap-louisville
3rd Turn Brewing http://3rdturnbrewing.com
Great Flood Brewing https://www.greatfloodbrewing.com
Apocalypse Brew Works http://apocalypsebrewworks.com
Gravely Brewing Co. https://www.gravelybrewing.com
Monnik Beer Co. https://monnikbeer.com
Goodwood Brewing and Spirits https://goodwoodbrewing.com
ALSO DON'T MISS...
Louisville Stoneware https://www.stonewareandco.com/visit-us/
Est 1815; absolutely beautiful tableware and many customizable options!
Shoutout to all these Kentucky friends that helped make this guide possible: Chip Polston, Mark Stivers, Dana Wilson, Kelly Haile, Kim Keller, Laura Holman and my new friend Nikki Armento